Leak Proof, Sectional, Maintenance Free Shower Pods
---
Clean Simple & Stylish Shower Pods
Ideal for commercial use in new builds, student accommodation & modular buildings
Available as fibreglass sections only or as a complete kit with door & fittings
Available in a range of styles and sizes
Fully bespoke/custom options available
What Are Shower Pods?
Are you an Architect, Builder or Contractor? Perhaps you are responsible for the maintenance of a commercial property? If you are and are considering purchasing a new shower pod then download this fantastic free guide to understanding the solutions to leaks and maintenance.
Get My FREE Guide Now
How It Works
MAINTENANCE FREE
No grout, no mastic only a high gloss finish. Fit and forget!
GRP FINISH
High gloss durable reinforced polymer which goes on looking good through the toughest wear with no loss of colour, finish, gloss or performance.
SECTIONAL
Horizontal sections make it light and easy to manoeuvre through standard doorways.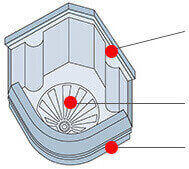 GASKET NOT MASTIC
Ensures both a leakproof and hygienic solution.
LEAK PROOF
Tray is integral part of assembly.
PATENDED ADJUSTABLE FEET
Guarantee a strong level installation.
SQUARE, PENTANGLE OR QUADRANT
3 shapes, 8 sizes, 21 models to suit any environment.
Why Your Clients Will LOVE Our Shower Pods
Overall Cost
Shower pods are far more cost effective with them lasting 15 – 25 years
Maintenance
Shower pods cos little to nothing to maintain
Installation
Shower pods come as one complete unit and are very light weight so are easy to install
Sustainability
Shower pods last 15 – 25 years so are more sustainable
Cleanliness
Shower pods are much easier to clean with an all-in-one fibre glass pod
Overall Cost
Tiles on a traditional shower need to be replaced every 5 years or so
Maintenance
Tiles on a traditional shower can leak and cause severe issues
Installation
To install a traditional shower you usually require trades people which will cost money
Sustainability
Traditional showers need a lot of maintenance making them less sustainable
Cleanliness
Traditional showers are harder to clean as tiles attract grout